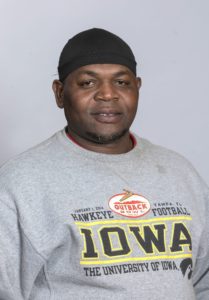 By: Taylor McPherson, Director of Communications and Community Engagement
Throughout a typical season, our asphalt plant personnel must be readily adaptable to service the locations closest to where the paving action is taking place. In some cases, that could be maintaining the needs of the Oxford area at Plant 11. In others, it could mean keeping the materials flowing out of Plant 10 for highway work near Byhalia, MS.
Christopher Wilks is a prime example of that adaptable nature. Described as being "good as gold" by his team, we know just what a treasure we've had in Chris as a member of our production division for the past decade. Currently serving as a loader operator at Plant 1, he's set foot upon and diligently supported the efforts of several company locations – Plants 7, 10, 11 and more.
VP of Production, John Paul Finerson, commented, "Chris is always willing to jump in where he's needed. In addition, he has good relationships with all the crew members wherever he lands."
Blake Kimbrough, Asphalt Plants Assistant Superintendent, reminisced on all the years he's worked alongside Chris. He shared, "Chris has been a huge part of making Lehman-Roberts successful. Everybody just loves him… Everybody wants a Chris on their team."
Part of the reason for that is because of the humility Chris exudes in his work and the care he shows for his team. Howard Green, Asphalt Plants Superintendent, recalled, "I've never seen Chris half do anything." Blake added, "That man will do anything in the world for you and he doesn't even have to know you. That's just who Chris is."
That level of care also extends to the watchful eye he has for the equipment he operates. Howard went on to share, "He takes very good care of equipment, whether it's assigned to him or not. If we send him a piece of equipment, it's going to be treated like it's his own." Some may argue that the stewardship of his equipment has also benefitted him with a number of skillsets as an operator. "Chris is a three-man crew by himself… That's how good he is." Blake remarked.
He went on to add, "When Chris first started, he didn't know anything about asphalt plants. Here we are 10 years later and he's one of the best. He just took the job and ran with it. He operates like he's been on the machine for 30 years or more."
The traits his team shared about him are a true testament to the kind of friend and teammate we have in Chris. Blake closed with, "Our core values… man, Chris has 'em all." Dependable, loyal, and most likely found with a smile on his face, we are humbled and honored to recognize Chris Wilks as our latest WHO Behind What We Do. Lehman-Roberts appreciates you, Chris!